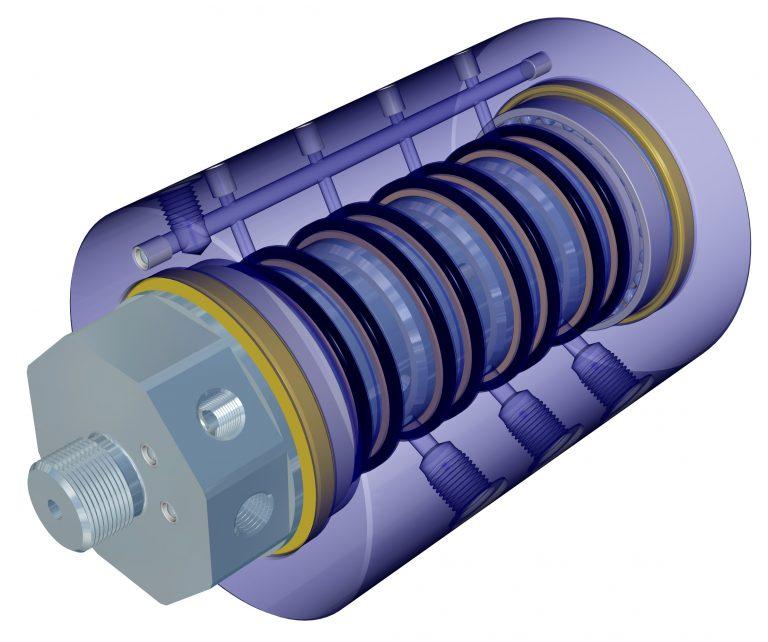 We offer swivel couplings for industrial use.
Advantages:
Hardened shaft for reduced wear.
Rotary seals for increased lifespan.
Around each chamber are double seals with intermediate channels for spill oil.
Radial seals protect the coupling from impurities.
The swivel coupling has ball bearings.
Do you need swivel couplings in other sizes or for other mountings? Contact us.
Arcos manufactures flow dividers for volume synchronisation of up to four hydraulic cylinders.

The flow divider can be built for volumes up to 4 x 24 litres and fitted with a sensor to control the stroke volume.
Pneumatic cylinder, AW series
AW is a series of ISO-nominated double-acting cylinders built entirely in acid-proof stainless steel. They have adjustable end position cushioning and are designed for heavy use. Only lubricant-filled bearing materials are used in AW cylinders. As a result, they are maintenance-free and can be connected to systems without additional lubrication. Moreover, lubricant-free operation results in a healthier work environment and easier installation.
AW cylinders are available in diameters of 40 to 125 mm with standardised stroke lengths of 25 to 500 mm. These cylinders can also be delivered with non-standard stroke lengths of the customer's choice.
The installation dimensions of cylinders with fittings are compliant with ISO/DIS 6431. The cylinders can also be mounted without fittings, by using the threads on the cap screws.
The round shape of AW cylinders makes them easy to keep clean.
The rotating ends facilitate hose attachment during installation.